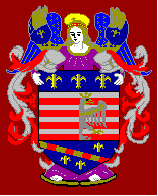 Organized by
Program Committee
Topics
Official Languages
Paper Submission
Contact Address
Call for Papers
Styles for Proceedings
Accepted Papers
General Information

CE&I

COMPUTER ENGINEERING AND INFORMATICS

Scientific conference

with International participation

October 14-15th, 1999 Herľany

SLOVAKIA

The aim of the conference is to provide the environment for scientists and experts from academic and non-academic institutions in the computer science area for presenting their original research results as well as for sharing the experience of the education in the field of computers and informatics in the both academic and non-academic institutions.
---
Organized by
Department of Computer and Informatics,
Faculty of Electrical Engineering and Informatics of
Technical University of Košice.
General chair:
Prof. Ing. Milan Jelšina CSc.
Organization chair: Doc.Ing. Ján Bača , CSc.

---
Program committee
P. Brezanyi, AU
J.J. Červak, UKR
M. Češka, CZ
V. Fischer, FR
N. Frištacký, SK
L. Hluchý, SK
P. Horváth, SK
V. Jáneš, CZ
J. Kolenička, SK
J. Kunovský, CZ
Ľ. Molnár, SK
M. Pezze, IT
I. Plander, SK
D.E. Popescu, RO
E. Selenyi, HU
R. Sulonen, FIN
J. Štefan, CZ
G.T. Tsejtlin, UKR
Z. Ulman, PL
---
Topics
Science and research
Theory of informatics
Computer systems and supercomputing
Information technologies
Computer networks and services
Computer graphics and virtual reality
Database and information systems

Education

Curricula
New methods of education
Specialized laboratory building
Official languages
The contribution text must be written in the English language. For the spoken presentation at the conference may be used English, Slovak or Czech language.

---
Paper submission
Send a full paper (max. 6 pages in English language) in one of the following formats:
plain Postscript file
MS Word 6.0 document
RTF file
to the e-mail address: kollarj@ccsun.tuke.sk to be received by May 31, 1999.

Papers submitted must be previously unpublished and not currently submitted for publication elsewhere. Papers will be evaluated by reviewers and authors will be notified of acceptance or rejection by August 15, 1999.

Accepted papers will be published in a special volume of the CE&I proceedings. Just presented papers will be published. Camera-ready versions in a specified format for the proceedings must be delivered both in a hard copy and electronic form due September 15, 1999.

1. E-mail address for paper submission:
kollarj@ccsun.tuke.sk
2.1 The address for camera-ready version:
Doc. Ing. Ján Bača, CSc.
Katedra počítačov a informatiky
FEI TU Košice
Letná 9
042 00 Košice
Slovakia
2.2 E-mail address for camera-ready version:
bacaj@tuke.sk
---
2nd Announcement and Call for Papers of CE&I
Call for papers of CE&I (.rtf)
---
Styles for proceedings of CE&I Conference
All camera ready papers have to be prepared according to following typing patterns, either using of LaTeX or MS Word.
LaTeX
MS Word
Zipped version of cei.sty, cei.tex, cei.doc, and cei.rtf files
If some problems with LaTeX and MS Word files, try to download zipped version, and use pkunzip Ceizip to get the files above correctly. Otherwise send a message to kollarj@ccsun.tuke.sk

---

List of accepted papers

The list of accepted papers is accessible here since August 15, 1999.

---
General information
Registration Fees
The registration fee covers postage, the stay in Herľany including food and coffee service during the conference, accomodation since October 14th to October 15th, 1999, and the transport by bus from Košice to Herľany and backward.

Registration fee: 1600,- Sk or 50,-USD
Conference proceedings: 800,- Sk or 25,-USD